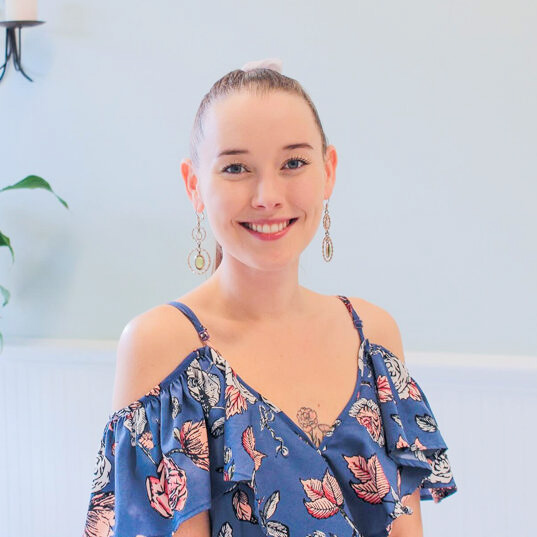 Ashlyn Aquarius is a 2020 NCSU psychology graduate, certified reiki practitioner, & intuitive card reader with over 3 years of professional experience in the metaphysical community. Serving as an unbiased mirror, she works to remind you of your own personal power & bring conscious awareness to where you might be giving it away in your daily life. By taking a multidimensional, intersectional & holistic approach toward healing, Ashlyn aims to reinvigorate your inner strength, ignite a passion for decision making & help build the confidence needed to live the life you deserve.
Every reading receives a combination of Tarot & Oracle card pulls. Each of the cards has a traditional & intuitive meaning based on the positioning, placement, and other cards surrounding it. The message is then interpreted in an easy-to-digest & loving way that aids you in gaining insight into your unique situation. Each reading is meant to leave you feeling refreshed, uplifted & redirected back onto your Divine path! Common question topics include but are not limited to… Career Path, Obstacles, Finances, Mindset Shifting, Life Purpose, Healing, Relationships, Month/Year Ahead, Big Moves, School & Higher Education, or simple Yes/No. General pulls or intuitive pulls are also common for those who cannot think of a certain question or just want to see what the Universe has to say. Ashlyn has been reading Tarot & Oracle for North Carolina residents & clients across the globe since 2019. Virtual sessions are an option for our far-away friends!
Please arrive at the session hydrated, focused, and open. Please refrain from texting/ calling during the session unless it is an emergency.
Legal Disclaimer for Readings :
Be advised that all Tarot, Oracle, and Spirit Mediumship sessions by Ashlyn Aquarius are subject to interpretation and should not be taken as absolute. Readings may not be 100% accurate and are for entertainment purposes only. The client is responsible for their own life and decisions. Ashlyn Aquarius will take no legal liability for any damages, losses, or other consequences of any client decisions, subsequent to, or based on readings provided. Ashlyn Aquarius is not qualified to give Medical, Legal, Business, Mental Health, Marital, Relationship, or Financial Advice and does not replace professional aid. Ashlyn Aquarius does not offer readings to anyone under 18 years of age without the presence and consent of a legal adult or guardian. By accepting this reading you confirm you are 18 years of age or over. By proceeding with services from Ashlyn Aquarius you agree to the terms above and release Ashlyn Aquarius, its owners, members, affiliates, and partners from all liabilities, legal claims, and expenses that may result both directly and indirectly from services performed. Ashlyn Aquarius in cooperation with Healing Leaves Holistic Center reserves the right to change these conditions at any time without notice.
Reiki is a method of transmitting divine energy & love so that the receiver may unblock stagnant energy, release emotions, overcome fears, & lay down their burdens in a safe container. Reiki is also used to help increase energy levels, facilitate deep relaxation, & invite happiness into the receiver. The healing system of Reiki has been around for thousands of years & continues to be used in professional health & wellness services today. Ashlyn has been certified for Reiki Level I & II of the Usui/Tibetan system of healing under Reiki Master Teacher, Teresa Buckner. These powerful sessions are hands-on, with the aid of attuned crystals, sound vibrational healing, aromatherapy & more. Couples sessions & animal sessions are available upon request!
Please be sure to begin the session hydrated and dressed comfortably. If you are able, remove your shoes prior to the start of energy work. These are 100% confidential and safe spaces free of judgment.
Reiki energy going in and out of your body and auric field can be physically tiring. Some people express feeling lethargic, trancelike, or just plain "out of it" following a reiki session. Other times people will leave the session feeling relaxed, invigorated, or even energetic. Every person and session is completely unique. I always recommend that you drink plenty of water and allow yourself to have space to relax following a reiki healing. If you are able, plan to take the night off from social interactions and get to sleep early.
Serving as an unbiased mirror, Ashlyn works to remind you of your own personal power & bring conscious awareness to where you might be giving it away in your daily life. By taking a multidimensional, intersectional & holistic approach toward healing, Ashlyn aims to reinvigorate your inner strength, ignite a passion for decision making & build the confidence needed to live the life you deserve.
These one-on-one private spiritual guidance sessions cover a wide range of topics including interpersonal relationships, business, career, finances, love, loss, transitions & new beginnings. Although guidance is given, the ultimate goal is to bring you back to your innate inner knowing & reconnect you with your unique Spirit Guides, Angels & Ancestors.
Spiritual guidance messages can be received in many ways including through the use of channeled paintings, tarot cards, oracle cards, charms, crystals, & more. Virtual sessions via Facetime or Zoom can be arranged for our long-distant or socially-distant friends.
Crystal Energy & Vibrational healing
Everything is energy and energy is vibrational. Once we learn this universal truth, we are able to tap into healing at the quantum level. Crystals, gemstones, rocks – whatever you choose to call them – they each have a unique vibrational fingerprint that interacts with what is around them. These amazing gifts from the Earth are able to transmute, transform, uplift, balance, and awaken the energy points within your physical body and spiritual aura. Using intuitively chosen crystals, I will place them on and around your body for an extended period of time. This allows the energetic field of the crystal to interact with your own energetic field, without you having to purchase many different types of crystals upfront. During this time, I will use sound healing methods such as bells, singing bowls, drums, and music to help break up any stagnant energy within you. This is a great opportunity to release emotion, meditate, astral travel, sleep, or just relax knowing you are in a safe environment to do so.
Each crystal is physically and energetically cleansed before each use to assure maximum benefit and safety. The space itself is energetically protected before and during the session so that you can have peace of mind knowing only the highest vibrational angels, ancestors, spirit guides, etc. will be present with you if you so choose.
Highly recommend Healing Leaves, the whole team is great and really cares about what they do. Shoutout to Jade and her excellent service and care- she has really helped me with my skin and I can't recommend her enough!
Gloria Collier
2022-12-29
I've gotten several readings from Sarah. Every time we talked I was always battling an internal battle bigger than myself, and Sarah has always greeted me with a warm, loving spirit and is so in tune with her intuition. I always leave the reading with answers and feeling affirmed with a fresh outlook on my life. She has a really good way of making you feel comfortable and safe, I'd recommend her readings to anyone!
Sarah Villafane
2022-12-23
I got the best massage from Leah Grossman. She took extra time and care on my neck area which gives me the most pain. It was better than any deep tissue massage, she does an intuitive massage, and pinpointed every pain area that needed care. Highly recommend!
Mckenzie Ingram
2022-12-23
I have been getting readings with Sarah over a few months now. The first reading I received, blew me away with her knowledge and intuition. After many readings with her I say every time, it feels like a warm hug. She has really helped guide me through using her knowledge and intuition, I have thoroughly enjoyed each reading and I always leave with a sense of comfort.
Pete San Giorgio
2022-12-10
I am so happy to have met such an amazing group of people. If you are feeling stressed, or anxious, this is the place that you need to go. I have visited this place six times now, and every time I walk through the door this feeling of calm and relaxation just comes over me. Amber and Ashlyn have always been so welcoming, and helpful whenever I have needed assistance or recommendations. I will definitely be back in the future.
I love this place and the healing practitioners that preside there. They all provide growing health within and that's exactly what I needed. Highly recommend:)
Collagen supplement really helps!
Such a wonderful space with high quality products and services! Every person I met here was so lovely- Jennifer made me feel so very welcome and supported, she is a truly powerful soul. Debbie was so generous with her time and energy, and Amber carries herself with a humble strength while maintaining the highest integrity of the products and energy of the store. I would highly recommend stopping by if you are looking for natural products and authentic conversations.
Erica is truly one of a kind. Her passion and excitement for helping others is contagious. Definitely pay her a visit!!!