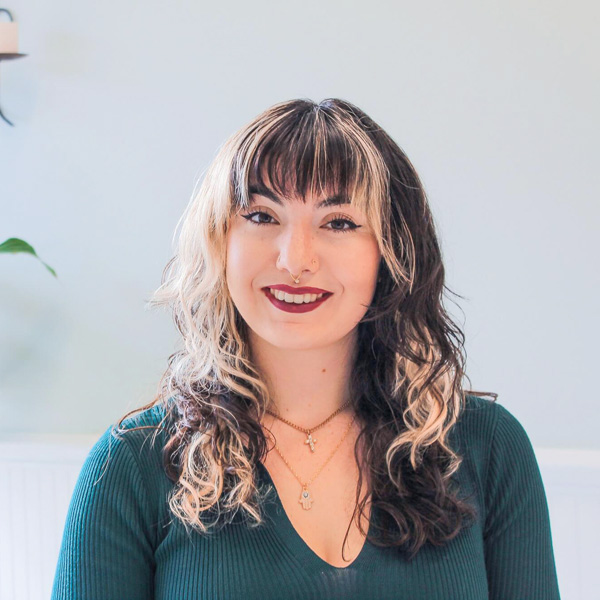 Hannah Boring is a newly licensed esthetician in North Carolina & South Carolina. She graduated from the Esthetics program at Strand College of Hair Design in early 2022. She is committed to expanding her knowledge and is eager to make an impact on clients' lives through the holistic services she offers. She specializes in Brow Shaping, Lashes Lifts, and Custom Facials based on your specific needs. 
Through her own personal experiences with skincare and health, as well as her passion for helping others, she decided to pursue a career in esthetics. Rather than just caring about physical appearance, she focuses on the mind, body, and soul. Her practice combines self-care, empowerment through education, making intuitive food choices, and including spirituality to help others heal in a holistic sense.
What Hannah has to offer her clients is love, guidance, and a sacred space free of judgment or worry. She believes every client deserves to have a safe space for healing and growth. Her goal is to aid you in feeling more confident and knowing that you are supported along this journey of healing. 
Join Hannah to learn the love language to beautiful skin and bring out your inner radiance!
Imelda Ledesma
2023-09-15
Jessica is the absolute best!!! She listens to exactly what is going on with you, then seems to find areas that you had no idea need attention to. The best!!
Alaina Van Gelder
2023-05-04
I had my first intuitive reading with Ashlyn recently and I was blown away! She was spot on with everything she said about me, my life, and my healing needs. Ashlyn is the real deal and I HIGHLY recommend her work! If you never done this work and are curious, or if you've been working on your healing journey for some time, Ashlyn is your girl - warm, empathic, grounded, and insightful. I absolutely give 5 stars!
I love all Healing Leaves has to offer! So many wonderful service options and a calm vibe to aid in relaxation. I've seen Patrick for acupuncture and Jade for facials, but the entire staff is so lovely and helpful. Patrick has helped me feel like a new person over the years and I can't thank him enough. Jade makes my skin look like flawless glass and I just can't wait to see her again! I'm excited to try the new infrared sauna too. It's really a one-stop for all your wellness needs.
Highly recommend Healing Leaves, the whole team is great and really cares about what they do. Shoutout to Jade and her excellent service and care- she has really helped me with my skin and I can't recommend her enough!
Gloria Collier
2022-12-29
I've gotten several readings from Sarah. Every time we talked I was always battling an internal battle bigger than myself, and Sarah has always greeted me with a warm, loving spirit and is so in tune with her intuition. I always leave the reading with answers and feeling affirmed with a fresh outlook on my life. She has a really good way of making you feel comfortable and safe, I'd recommend her readings to anyone!
Sarah Villafane
2022-12-23
I got the best massage from Leah Grossman. She took extra time and care on my neck area which gives me the most pain. It was better than any deep tissue massage, she does an intuitive massage, and pinpointed every pain area that needed care. Highly recommend!
Mckenzie Ingram
2022-12-23
I have been getting readings with Sarah over a few months now. The first reading I received, blew me away with her knowledge and intuition. After many readings with her I say every time, it feels like a warm hug. She has really helped guide me through using her knowledge and intuition, I have thoroughly enjoyed each reading and I always leave with a sense of comfort.