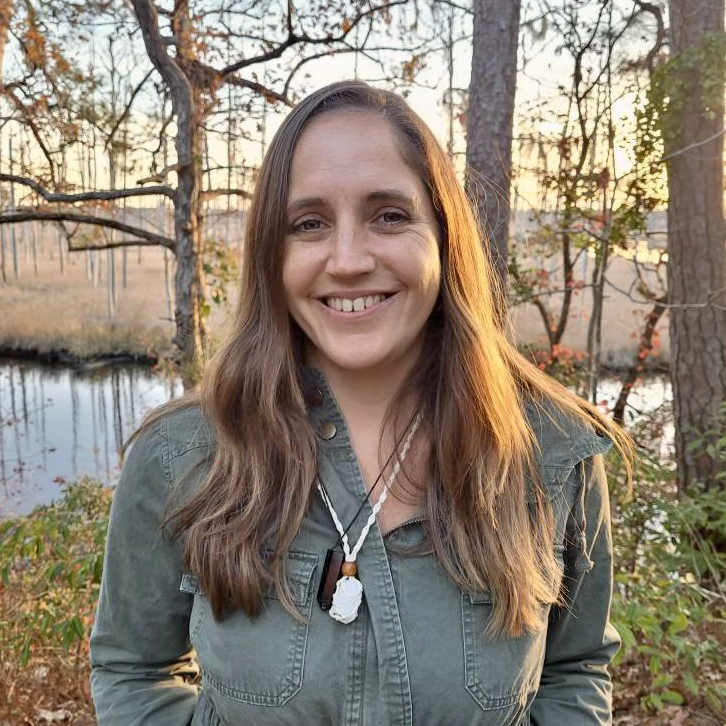 India Hopkins began her studies in the healing arts in 2018, in the Appalachian Mountains in Southwest Virginia with her teacher, Darlene Himes. She completed her level 1 and 2 Holy Fire Reiki Certification that year and received her Reiki Master Certification in 2020. Indi has since gone on to receive her Karuna Reiki Master Certification in 2022.
Indi's personal healing journey began back in 2010 after many years of struggling with both physical and mental illness. She has since devoted much of her time to learning how to safely tap into the emotional body, energy body and her subconscious mind to experience healing on a deep level. Indi is now studying Contemporary Shamanism with her teacher, Marie Allred. She is also has completed Level II training for accessing the Akashic Records with Ahna Hendrix.
Reiki healing energy is a high vibrational and loving energy which is channeled through the practitioner to help you find deep relaxation and healing. Reiki can assist you in healing on physical, emotional and energetic levels. Many people find that they leave the Reiki session feeling more calm, light and balanced.
Indi's sessions are intuitively guided, and each session will be a little different to meet you where you are in the present moment. She will often include mediation, intuitive messages, singing bowls, crystals and/or oracle cards in her sessions. All are welcome in this space.
Come and enjoy an hour of deep relaxation and energy healing. In this session, Indi will channel Karuna Reiki energy to help you release what is no longer serving you, while also helping you bring in what is in alignment.
This 90 minute session will include over an hour of Reiki, as well as a combination of other tools to help you restore balance on all levels. You'll leave feeling relaxed, clear and fully grounded.
Cup of Ceremonial Grade Cacao:
This delicious ceremonial grade cacao is essentially the most amazing hot chocolate you've ever had, and so much more! Cacao is known for it's heart opening aspect. In this day and age, we can all use a little more heart opening. Indi likes to include cacao in her sessions, as it helps her clients be more open to receiving the benefits of Reiki. This drink is vegan friendly, and ingredients include ceremonial grade cacao, unsweetened oat milk, a small amount of maple syrup as well as cinnamon.
Imelda Ledesma
2023-09-15
Jessica is the absolute best!!! She listens to exactly what is going on with you, then seems to find areas that you had no idea need attention to. The best!!
Alaina Van Gelder
2023-05-04
I had my first intuitive reading with Ashlyn recently and I was blown away! She was spot on with everything she said about me, my life, and my healing needs. Ashlyn is the real deal and I HIGHLY recommend her work! If you never done this work and are curious, or if you've been working on your healing journey for some time, Ashlyn is your girl - warm, empathic, grounded, and insightful. I absolutely give 5 stars!
I love all Healing Leaves has to offer! So many wonderful service options and a calm vibe to aid in relaxation. I've seen Patrick for acupuncture and Jade for facials, but the entire staff is so lovely and helpful. Patrick has helped me feel like a new person over the years and I can't thank him enough. Jade makes my skin look like flawless glass and I just can't wait to see her again! I'm excited to try the new infrared sauna too. It's really a one-stop for all your wellness needs.
Highly recommend Healing Leaves, the whole team is great and really cares about what they do. Shoutout to Jade and her excellent service and care- she has really helped me with my skin and I can't recommend her enough!
Gloria Collier
2022-12-29
I've gotten several readings from Sarah. Every time we talked I was always battling an internal battle bigger than myself, and Sarah has always greeted me with a warm, loving spirit and is so in tune with her intuition. I always leave the reading with answers and feeling affirmed with a fresh outlook on my life. She has a really good way of making you feel comfortable and safe, I'd recommend her readings to anyone!
Sarah Villafane
2022-12-23
I got the best massage from Leah Grossman. She took extra time and care on my neck area which gives me the most pain. It was better than any deep tissue massage, she does an intuitive massage, and pinpointed every pain area that needed care. Highly recommend!
Mckenzie Ingram
2022-12-23
I have been getting readings with Sarah over a few months now. The first reading I received, blew me away with her knowledge and intuition. After many readings with her I say every time, it feels like a warm hug. She has really helped guide me through using her knowledge and intuition, I have thoroughly enjoyed each reading and I always leave with a sense of comfort.