Foundations Course with Jessica Gammell-Bennett
March 5 @ 2:00 pm

-

5:30 pm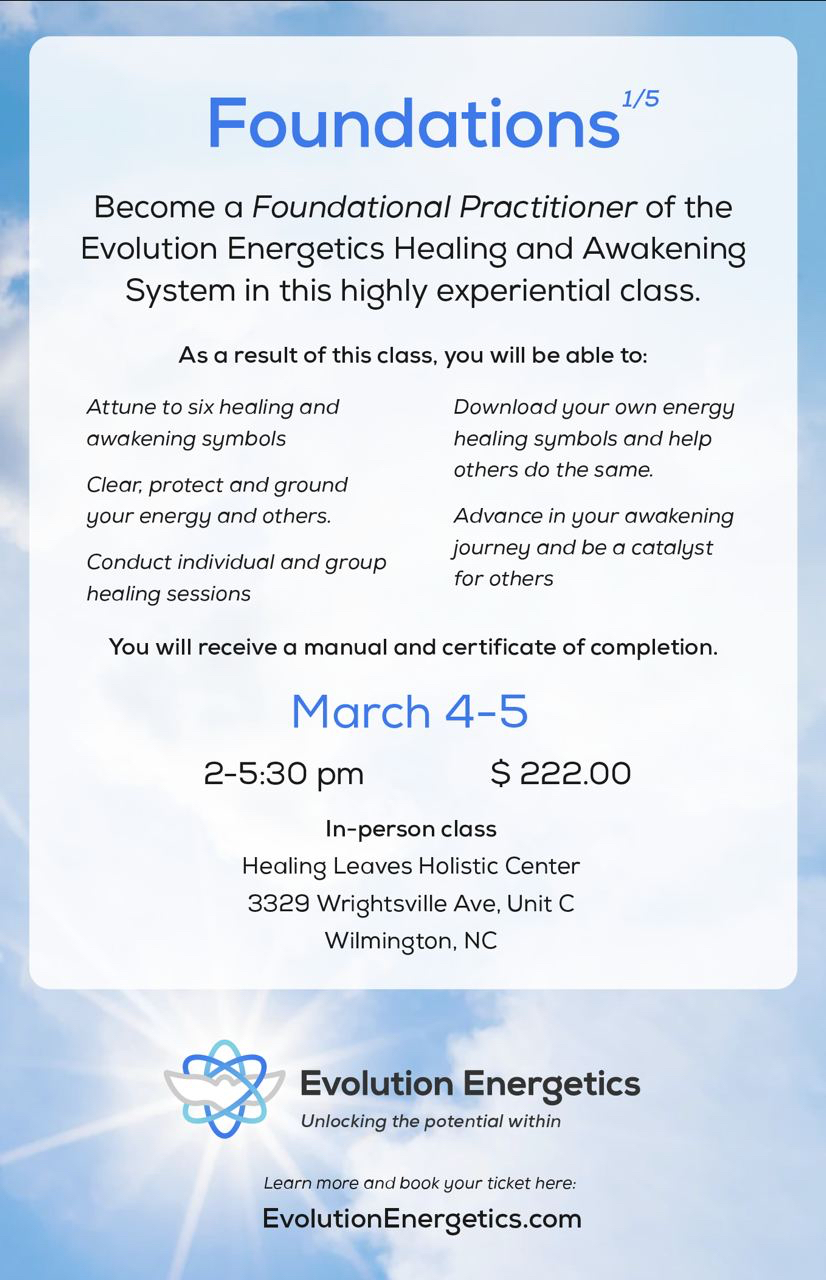 When you become a Practitioner of Evolution Energetics, not only do you accelerate the unlocking of your own potential and gifts, but you become an instrument for others to do the same. When you attune to the Evolution Energy, you receive a toolkit with which to help others advance on their journey to wholeness. Starting with Foundations, you are able to clear, ground, and protect your energy and connect to your higher self in order to receive your own healing tools. You are also able to help others do the same, whether individually or in a group. Progressing to the next courses in the practitioner sequence, you are able to heal yourself and others physically, emotionally, and spiritually.
Over the course of the class, you will be attuned to six symbols that you can use on yourself and others. One for :
• Clearing the energy field
• Protecting the energy field
• Grounding energy
• Connecting to the higher self
• Raising the vibration of the energy field
• Anchoring the energy field to Source light, the highest frequency light
Because you will be attuned to these symbols, you will have them to use for the rest of your life and will be able to use them on others. You will also learn about the :
• Benefits and effects of energy healing
• Origins of Evolution Energetics
• Chakra System
• Higher self and its role in the awakening process
• Ego and enneagram types, an essential understanding in the awakening process
• Dimensions of the awakening process (3D, 4D, 5D)
• Awakening experience and journey
The practitioner courses are taught through a sequence of five courses : Foundations, Physical Healing, Emotional Healing, Spiritual Healing and Master Practitioner.

Location: Healing Leaves Holistic Center
3329 Wrightsville Ave. STE C, Wilmington, NC