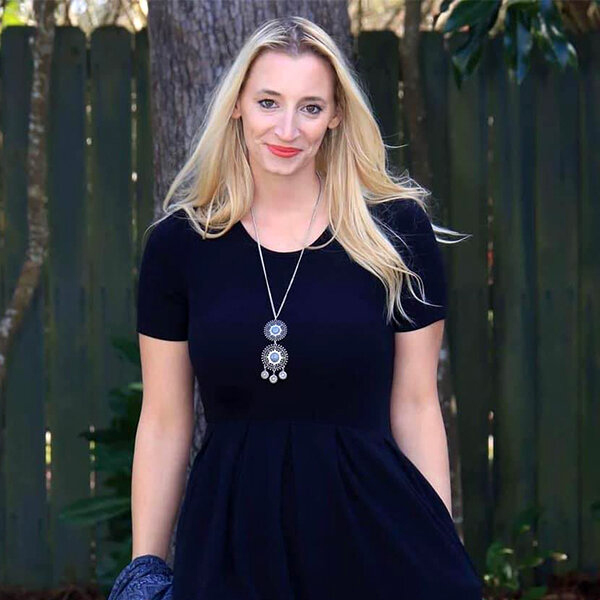 Amber Law, founder of Inner Guidance Hypnotherapy, is an International Association of Counselors and Therapists (IACT) certified hypnotherapist, specializing in clinical, regression, and spiritual hypnotherapy. Amber is also an Institute for Integrative Nutrition (IIN) certified nutrition and health coach. She uses her deep listening skills, training, and professional experiences to help her clients achieve their individual goals.
Every session is one on one and specially tailored to each client. Amber's passion and love for helping others allows her clients to feel a level of trust where they are able to deeply relax in a nonjudgmental environment. Amber brings together and utilizes many modalities in her sessions including hypnosis, NLP, IFS or Parts Therapy, regression, Mindscaping, energy healing, guided visualization, and breathwork, helping clients to overcome challenges and create the life they want. Hypnotherapy is a wonderful tool to help in many areas of life including overcoming limiting beliefs, fears, stress, habits, inner child work, overcoming negative cycles, improving skills, visualizing, manifesting outcomes, and so much more. Amber offers both zoom and in-person sessions at Healing Leaves.
Unlock the power of your mind with clinical hypnotherapy! Are you feeling held back by limiting beliefs, stress, or fears? Do you struggle with making decisions, public speaking, or sleeping well? Our certified hypnotherapists can help you overcome these challenges and more. Through deep relaxation and clinical hypnosis, you can tap into your inner resources and achieve your goals. Our hypnotherapy sessions can also help you improve your athletic ability, boost your confidence, connect with your inner child, and visualize your desired outcomes. Whether you want to overcome a specific obstacle or improve an aspect of your life, we have a solution for you. We have many different types of Hypnotherapy sessions available. If you're not sure which type of session is best for you, we offer a free phone consultation to guide you. Take control of your life and achieve your full potential.
Ultimate Relaxation Hypnosis
Ultimate Relaxation Mini Hypnosis Looking for a quick way to reset and rejuvenate? Our Ultimate Relax hypnotherapy mini session is just what you need. Indulge in a blissful state of mind that allows your body to deeply relax while clearing your mind. This hypnotic journey will take you to your own private oasis where you can leave the outside world behind, calm your thoughts, and recharge. Lose track of time and feel like you have much longer than 45 minutes to recharge. Say goodbye to overwhelm and hello to decreased stress, easier decision-making, pain relief, and more. Whether you're new to hypnosis or a seasoned pro, our Ultimate Relax session is the perfect way to take a break and focus on yourself.
Transcendence Hypnotherapy
Looking for a powerful and transformative experience? Transpersonal hypnosis can help you connect with your higher self, access deeper levels of consciousness, and create profound shifts in your life. Our skilled hypnotherapists use a variety of techniques to help you explore your inner world, access your intuition, and tap into your spiritual essence. Whether you're looking to heal past traumas, find your life's purpose, or deepen your spiritual practice, transpersonal hypnosis can help. With this powerful modality, you can release limiting beliefs, connect with your true self, and unleash your full potential. If you're ready to embark on a journey of self-discovery and transformation, come explore the power of transpersonal hypnosis
Quit Smoking Hypnotherapy Program
Hypnotic Smoking Cessation: Ready to quit smoking for good? Our hypnosis program is designed to help you break free from nicotine addiction and create healthier habits. With three 1.5-hour sessions of powerful hypnotic techniques, you'll discover the root causes of your smoking habit and learn practical tools to overcome cravings and temptation. Invest in your health. Say goodbye to smoking or vaping and hello to a happier, healthier life with our Hypnotherapy smoking cessation package. This package includes 3 sessions. The first session could be up to two hours. The other two sessions are 90 minutes. The first 2 sessions are best scheduled a few days apart. The third session can be used at any time for up to a 1 year.
At Healing Leaves we have many other services that can help you to quickly detox your system from nicotine as well. For your consideration: Far-Infrared Sauna – Our hypnotherapist recommend at least one 20 minute or longer Sauna session following right after your first session. This will help you clear toxins and allow relaxing processing time right after your session.
Have you ever been curious about your past lives? Past life regression can help you access memories and experiences from previous lifetimes, unlocking hidden insights, and wisdom. Our master hypnotherapist will help you connect with your past selves and uncover the root causes of current issues and challenges. Whether you're seeking healing, personal growth, or spiritual enlightenment, past life regression can help you gain a deeper understanding of your soul's journey and purpose. With this powerful modality, you can release old patterns, heal past traumas, and unlock your full potential. If you're ready to explore the mysteries of your past lives, book a session with us today and embark on a journey of self-discovery and transformation.
Weight Release Hypnosis Package
Weight Release Hypnosis Package! 4 – 90 minute transformative sessions. Are you struggling to release excess weight and feel stuck in a cycle of unhealthy habits? With our hypnotherapy weight release package, you can tap into the power of your subconscious mind to break free from old patterns and achieve lasting change. Each of the four sessions will guide you through a transformative process of self-discovery and healing. You'll learn to identify and release limiting beliefs, emotions, and behaviors that may be contributing to weight gain, while building new habits and reinforcing a positive self-image. By accessing deeper states of consciousness, you'll tap into your inner wisdom and align your mind, body, and spirit for optimal health and wellbeing. Don't let excess weight hold you back any longer. Take the first step towards a healthier, happier you today!
Imelda Ledesma
2023-09-15
Jessica is the absolute best!!! She listens to exactly what is going on with you, then seems to find areas that you had no idea need attention to. The best!!
Alaina Van Gelder
2023-05-04
I had my first intuitive reading with Ashlyn recently and I was blown away! She was spot on with everything she said about me, my life, and my healing needs. Ashlyn is the real deal and I HIGHLY recommend her work! If you never done this work and are curious, or if you've been working on your healing journey for some time, Ashlyn is your girl - warm, empathic, grounded, and insightful. I absolutely give 5 stars!
I love all Healing Leaves has to offer! So many wonderful service options and a calm vibe to aid in relaxation. I've seen Patrick for acupuncture and Jade for facials, but the entire staff is so lovely and helpful. Patrick has helped me feel like a new person over the years and I can't thank him enough. Jade makes my skin look like flawless glass and I just can't wait to see her again! I'm excited to try the new infrared sauna too. It's really a one-stop for all your wellness needs.
Highly recommend Healing Leaves, the whole team is great and really cares about what they do. Shoutout to Jade and her excellent service and care- she has really helped me with my skin and I can't recommend her enough!
Gloria Collier
2022-12-29
I've gotten several readings from Sarah. Every time we talked I was always battling an internal battle bigger than myself, and Sarah has always greeted me with a warm, loving spirit and is so in tune with her intuition. I always leave the reading with answers and feeling affirmed with a fresh outlook on my life. She has a really good way of making you feel comfortable and safe, I'd recommend her readings to anyone!
Sarah Villafane
2022-12-23
I got the best massage from Leah Grossman. She took extra time and care on my neck area which gives me the most pain. It was better than any deep tissue massage, she does an intuitive massage, and pinpointed every pain area that needed care. Highly recommend!
Mckenzie Ingram
2022-12-23
I have been getting readings with Sarah over a few months now. The first reading I received, blew me away with her knowledge and intuition. After many readings with her I say every time, it feels like a warm hug. She has really helped guide me through using her knowledge and intuition, I have thoroughly enjoyed each reading and I always leave with a sense of comfort.