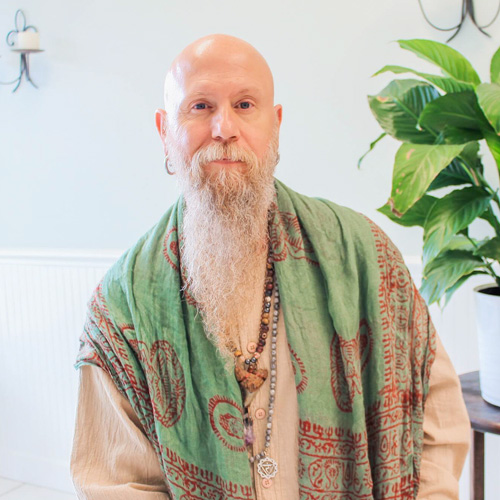 Roger is an internationally recognized Shaman, Medicine Carrier, and Spiritual Guide with over 30 years of experience devoted to nature centric spirituality and sacred ceremony; he is a Reiki Master as well as a practitioner of several other healing modalities such as Meditation, Medical Qigong and Sacred Plant Medicine. After working for over a decade in "traditional" healthcare as both a nurse and as a hyperbaric technologist, Roger surrendered to the call of Spirit to devote his life in service of assisting others to awaken to their deepest healing and spiritual potential. Roger offers 1:1 sessions, group meditations, sacred healing ceremonies, workshops and together with his wife Allison, hosts several retreats yearly in North Carolina and elsewhere.
Golden Fire Energy Alchemy
During this session, Roger uses a combination of energy healing modalities including Reiki, Medical Qigong and Shamanic energy healing, with meditation and breathwork for a complete healing and wellness service.
These sessions are effective in healing support for:
Reducing & Managing Stress
Reducing & Managing Anxiety
Managing Depression
Reducing Inflammation
Chronic Fatigue and Low Energy
Pain Management
Processing Emotional Trauma
Removing Toxins from the Body
And more…
Spiritual Guidance & Healing Session
Many of our deepest, most profound moments of Spiritual growth and awakening often come during times of personal challenge, in dealing with the "realities" of life such as relationships, finances, health, work/career or releasing conditioning and limiting beliefs from society including processing emotional wounds or traumas from our past.
If you find yourself going through a major life event, the guidance I offer can help you navigate and better understand this transitional time you are experiencing and help to frame this within the context of personal growth, healing, and spiritual awakening. The guidance sessions I offer focus on a reconnecting to Spirit, the Divine Presence, and embracing that Presence within us to unlock and open to our fullest potential.
During this session, Roger creates a personalized sacred ceremony for each client, a space for channeled messages, connecting with spirit guides, intuitive guidance, and healing and for developing a personal and intimate relationship with Spirit. Each session is unique as Roger uses a variety of techniques such as energy healing, breathwork, chakra balancing and clearing, shamanic journey, calling on spirit guides, ancestors, nature spirits and faerie beings, and aspects of Divine Masculine/Divine Feminine, all tailored to the specific needs of the individual.
* Shamanic Healing w/ Rapeh Medicine is also available. Requires a 15-minute phone consult with Roger prior to the session.

Highly recommend Healing Leaves, the whole team is great and really cares about what they do. Shoutout to Jade and her excellent service and care- she has really helped me with my skin and I can't recommend her enough!
Gloria Collier
2022-12-29
I've gotten several readings from Sarah. Every time we talked I was always battling an internal battle bigger than myself, and Sarah has always greeted me with a warm, loving spirit and is so in tune with her intuition. I always leave the reading with answers and feeling affirmed with a fresh outlook on my life. She has a really good way of making you feel comfortable and safe, I'd recommend her readings to anyone!
Sarah Villafane
2022-12-23
I got the best massage from Leah Grossman. She took extra time and care on my neck area which gives me the most pain. It was better than any deep tissue massage, she does an intuitive massage, and pinpointed every pain area that needed care. Highly recommend!
Mckenzie Ingram
2022-12-23
I have been getting readings with Sarah over a few months now. The first reading I received, blew me away with her knowledge and intuition. After many readings with her I say every time, it feels like a warm hug. She has really helped guide me through using her knowledge and intuition, I have thoroughly enjoyed each reading and I always leave with a sense of comfort.
Pete San Giorgio
2022-12-10
I am so happy to have met such an amazing group of people. If you are feeling stressed, or anxious, this is the place that you need to go. I have visited this place six times now, and every time I walk through the door this feeling of calm and relaxation just comes over me. Amber and Ashlyn have always been so welcoming, and helpful whenever I have needed assistance or recommendations. I will definitely be back in the future.
I love this place and the healing practitioners that preside there. They all provide growing health within and that's exactly what I needed. Highly recommend:)
Collagen supplement really helps!
Such a wonderful space with high quality products and services! Every person I met here was so lovely- Jennifer made me feel so very welcome and supported, she is a truly powerful soul. Debbie was so generous with her time and energy, and Amber carries herself with a humble strength while maintaining the highest integrity of the products and energy of the store. I would highly recommend stopping by if you are looking for natural products and authentic conversations.
Erica is truly one of a kind. Her passion and excitement for helping others is contagious. Definitely pay her a visit!!!